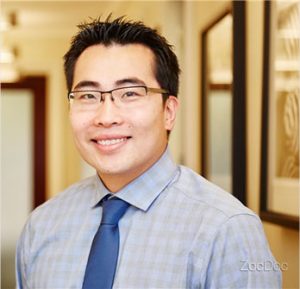 Dr. David Chen is a board-certified neurosurgeon who performs spine and brain operations. He is fellowship-trained with specialization in complex spinal surgery. This includes an expertise in treatment of a broad range of spine pathologies, including adult scoliosis/deformity, degenerative disorders, revision surgery, infections, spinal tumors, and trauma. His skill set spans from performing minimally invasive procedures to complex open spinal reconstructive surgeries.
During his Neurosurgical Spine fellowship training at Stanford University in California, Dr. Chen focused on treatment of spinal disorders using the latest innovations, including state-of-the-art instrumentation and minimally invasive techniques. He finished his internship in general surgery and residency in neurological surgery at Hofstra North Shore-LIJ School of Medicine where he served as chief resident after earning his medical degree from New York College of Osteopathic Medicine in 2007.
Dr. Chen is an active member of the Congress of Neurological Surgeons, American College of Osteopathic Surgeons, and North American Spine Society, and has presented work for the American Association of Neurological Surgeons on capturing data for spinal surgery outcomes. He is an author on multiple publications relating to the diseases of the brain and spine.